Every day, millions of people will use search engines to find products or services. More than 90% of those people will only click links on the first page of the search results. Is your site on that first page? Are your competitors?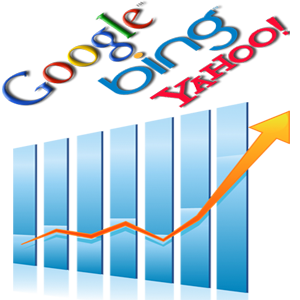 That's why we're here: so you can experience a flood of new visitors to your site. Our search engine optimization services are based on years of research and experience, and we continue to improve our techniques and tools to stay ahead of each and every change in the search engines. Our team will position your site so that it can generate the kind of traffic that will convert into paying customers. Our SEO strategies are based on: 
- Keyword Research
- Competitive Analysis
- Link Building
- Website optimization Services and Content Development/Copywriting
- Online Public Relations/Press Release Optimization
- Local Search Optimization
- Video SEO
- Web Marketing Analytics
- Reporting
Keyword Research:
Our search engine marketing services start with identifying the keywords your target audience uses when searching for your products or services. It is a crucial step of the optimization process. You have to reach the right audience to generate a high return on investment. We help you choose the best keywords based on search frequency and relevance to your website. Carefully targeting your campaign from the start is the key success down the road.
Competitive Analysis:
We are in an extremely competitive marketplace. There are other companies targeting your keywords and reaching your potential customers. Analyzing your competition's online strengths and weaknesses can reveal opportunities for you. We take an in-depth look at the competitive marketplace for your chosen keywords and help you develop the strategies to reach the top and stay there.
Link Building:
Building relevant links from other websites to yours is an intricate and critical process. We utilize a wide range of methods and techniques to gain valuable links, to build your rankings. We work to build a well-rounded link portfolio that includes many kinds of links and opportunities to help you compete. Relevant, high-quality links are one of the most important factors in determining how well a website will rank in the search engines. Building relevant links from other websites is an intricate process that requires time and patience.
Website optimization Services and Content Development/Copywriting:
An effective content strategy is vital to online success. Search engines index new and unique content, which means there is a lot of SEO value in your Web content. However, the final product needs to be much more than just content for search engines. Good copywriting will both utilize your keywords to increase your rankings, as well as aid in converting your visitors to paying customers. We produce professional, unique content that delivers a clear and optimized marketing message to search engines and to users. This includes appropriate updating off all "on page" factors (meta tags, image tags, descriptions, etc.).
Online Public Relations/Press Release Optimization:
Newsworthy items can spread extremely fast over the Internet, and you can easily target the audience that is interested in your message. Online PR is an efficient and less expensive route than traditional public relations. Online press releases also add SEO and website optimization benefits by sending traffic and links back to your site. We can help you announce new developments in your company and make the most of the SEO and PR benefits.
Local Search Optimization:
A local search usually includes a location name as part of a keyword and is used by customers seeking a business or product in their local area. When these types of searches are performed, the search engines will often display a geographic map of local business listings with important contact and direction information. We help you optimize your local business listings for these geographically focused searches. Local search advertising specifically targets local consumers ready to buy a certain product or service. A higher percentage of these customers will purchase once they've found the locations where they can do business near them.
Video SEO:
Modern search engine optimization can include a range of multimedia strategies to build rankings and drive traffic to your site. Search engines provide video results on related keywords. We will help you develop a multimedia campaign that complements your SEO efforts and allows you to reach a broader audience by optimizing videos for search.
Web Marketing Analytics:
Search marketing campaigns should be by carefully and regularly analyzed. We set up analytics reporting on your site and then offer professional consultation and recommendations on how to understand and take advantage of the data. We examine all the relevant metrics and data related to your site visitors to determine what keywords and search engines are driving the most traffic, and what changes need to be made to your site to increase relevant traffic and conversions.
Reporting/KPIs:
We provide a detailed account of your website's key performance indicators so you can easily see the improvements made from our efforts.
Call Dougwoody Today!
478-333-3035